The Masters programme has a requirement of 60 ECTS and is organised into 3-day modules for a total of 12 modules (40 ECTS), among which 5 on-campus and 7 full online.
The modules combine lectures, talks by experts from Research Infrastructures and guest speakers, webinars and case study analysis.
The total duration of the Masters is 18 months.
Field project
Participants completing the full programme are required to work on field projects (20 ECTS) – individual or team projects that draw on specific needs of RIs – under the supervision of faculty members. These projects will enable participants to concretely apply managerial tools and methods to benefit their organizations. Some examples of these are: writing a business plan for a new RI, creating a sustainability model, defining a new project or service, developing a new communication strategy, developing a data management plan or a disaster mitigation plan.
Modules
The Masters programme is composed of eleven core modules and one optional module to meet the needs of Research Infrastructures at different phases of development.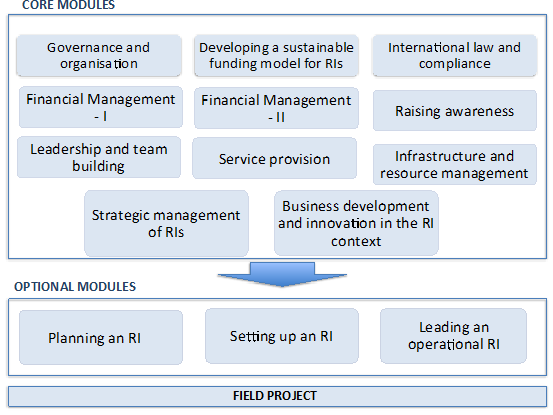 Optional module theme (2 ECTS)
Features
Planning an RI
The RI leader focuses on the development of strategies for building the organisation
Setting up an RI
The RI leader focuses on the implementation of strategies for growth of the organisation and setting up the operating tools
Leading an operational RI
The RI leader focuses on innovation and high level direction